Game of Thrones : Les meilleures réactions Twitter au final de la saison 7 !
Twitter était en ébullition lors de la diffusion du dernier épisode de la saison 7 de Game of Thrones.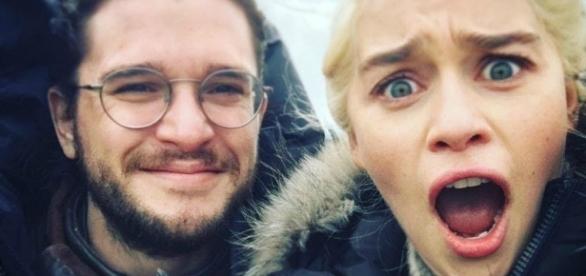 Pour beaucoup, le dernier épisode de cette saison est aussi le meilleur. Réunion de personnages emblématiques, retrouvailles, complots, sexe, action... tout y est passé afin d'offrir aux fans de #Game of Thrones un final digne de ce nom. Une fin en apothéose qui promet beaucoup d'actions pour l'ultime saison, ce qui rend cependant encore plus dure l'attente, puisque la saison 8 de #GOT ne sera sans doute pas diffusée avant 2019. En attendant, voici les meilleures réactions que l'on a pu trouver sur Twitter à l'occasion du final de la saison 7.
1. La logique des Stark
"Petyr Baelish, our crazy bro who thinks he's a triple eyed bird says he mind-time traveled to prove your crimes. How do you plead?"

"what"

— Andrew Bridgman (@PubeGoldberg) 28 août 2017
2. Inceste
2011: Those 2 having sex are related? Idk if GoT is my kinda show

2017: If Jon doesn't clap Dany's cheeks tonight I'm not watching anymore

— Bobby (@SullivanBobby) 27 août 2017
3. Cersei bouche bée
#GameOfThrones #ThronesYall
Cersei: I don't believe in white walkers.

*Walker almost eats her face.*

Cersei: pic.twitter.com/t9RjaBosu8

— Kaitlyn (@_kilowhiskey_) 28 août 2017
4. Ce cher Qyburn
Qyburn getting an Evil Science hard-on was seriously one of my favorite parts of this episode #gameofthrones

— Saladin Ahmed (@saladinahmed) 28 août 2017
5. Tristesse
HBO is just like "anyway, Ballers is next" and I'm just like. #GameOfThrones #DemThrones #ThronesYall pic.twitter.com/GrDgJn5LwH

— That Girl Brittany (@BJonesWHO) 28 août 2017
6. Bran, ce rapporteur
Littlefinger: No one was there. You didn't see anything.
Bran:#GameOfThrones #DemThrones pic.twitter.com/4uwmoVNteL

— Loretha Lannister (@ritaresarian) 28 août 2017
7. Jon tente le coup
Daenerys: "My dragons are my children, they're the only children I'll ever have."

Jon: "Challenge accepted"

#GameOfThronesFinale

— Jacqueline (@jacqueline1o15) 28 août 2017
8. Plus dure sera l'attente
When you realize that may have been the last episode for two years #GameOfThrones #GoTS7 pic.twitter.com/2ezUlEFBHY

— Thrones Facts (@thronesfacts) 28 août 2017
9. Et si Trump gérait Westeros ?
We're gonna rebuild that wall & the Night King is going to pay for it #gameofthrones

— Jeremy Vest (@Jeremy_Vest) 28 août 2017
10. La stratégie des Stark
#ThronesYall #GameOfThronesFinale

Sansa: you stand accused of murder, treason. How do you respond.....Lord Baelish?

Entire audience: pic.twitter.com/drSMYmJLhC

— Eric Zahn (@ericincontrol) 28 août 2017
11. Chère Friendzone
"we sail together" poor jorah 😂 #GameOfThrones pic.twitter.com/JiPMkdu207

— Daenerys Targaryen (@Queen_Daenerys_) 28 août 2017
12. Rhaegar = Viserys ?
When Rhaegar looks just like Viserys #GameOfThrones pic.twitter.com/12YhIyojUj

— Carson Hamilton (@CarsonVictoria) 28 août 2017
13. Difficile de résister
WHEN SHE'S TECHNICALLY YOUR AUNT BUT STILL FINE AS HELL #GameOfThrones pic.twitter.com/cBHX2FkcRL

— Adam B. (@Bealzies) 28 août 2017
14. Le Mur est tombé
The people of Westeros right now #GameOfThrones pic.twitter.com/uVTaidSnz2

— Gauty (@Gtam11) 28 août 2017
15. Quand Samwell épate Bran
Bran: I know everything. Sam: Did you know Rhaegar was remarried? Bran: #GameOfThrones pic.twitter.com/XTTwJwNREO

— Rachel Gallucci (@rmgallucci) 28 août 2017
16. Un dragon de glace, sérieusement ?
Tormund & Beric when they saw the Ice Dragon.... #DemThrones #ThronesYall pic.twitter.com/D9JMRA3Fqi

— bigmike (@mikelowkey) 28 août 2017
17. Et Gilly dans tout ça ?
TFW you uncover the biggest secret in Westeros and your boyfriend takes all the credit.#GameOfThrones #GameOfThronesFinale #ThronesYall pic.twitter.com/YBSdcjqNO3

— Denizcan Targaryen (@MrFilmkritik) 28 août 2017
18. Le moment tant attendu
Jon Snow is not a bastard, but he probably just made one.#GameofThrones #GameofThronesFinale #ThronesYall pic.twitter.com/f2sPiE38Jg

— Denizcan Targaryen (@MrFilmkritik) 28 août 2017
19. Savoir jouer la surprise
I'd like to nominate Littlefinger getting exposed as the new "Blinking White Guy" GIF #GameOfThrones #GameOfThronesFinale pic.twitter.com/bmoGv27qdg

— Tristan Cooper (@TristanACooper) 28 août 2017
20. Quand Littlefinger n'a pas les mots
#GameOfThronesFinale #GameOfThrones
Sansa: You are accused of murder and treason. How do you pleade, Little Finger.

Little Finger: pic.twitter.com/YKPKtYhSGe

— Cody Campbell (@CodyCampbell12) 28 août 2017
Selon l'acteur qui incarne Jaime Lannister, Nikolaj Coster-Waldau, la saison 8 commencera la production en octobre 2017.
Qu'est-ce que cela signifie ? Eh bien, il reste un mince espoir pour que la saison 8 soit diffusée à la fin de l'année 2018. Mais cette dernière saison sera plus probablement à retrouver sur les écrans au printemps 2019. La série pourrait donc se terminer près de dix ans après avoir commencé sur HBO.
Mais la saison 8 pourrait s'avérer la plus sanglante de toutes. D'après Kit Harington, qui interprète Jon Snow (ou désormais Aegon Targaryen), « les téléspectateurs devraient se préparer à ce que la série revienne et tue ses personnages principaux très rapidement. Ils vont mourir, et ils vont mourir vite et je pense que c'est le prix à payer pour n'avoir pas été vraiment en péril cette année. L'année prochaine ça va être un massacre ».
Pour Peter Dinklage, interprète de Tyrion Lannister, la saison 8 sera également intéressante à suivre en raison de la romance en Jon et Daenerys, qui a pris un nouveau tournant lors de l'épisode 7 de la saison 7.
Pour rappel, le personnage de Tyrion s'inquiète fortement du rapprochement Jon / Daenerys, prenant un air sérieux et grave pendant que les deux concernés sont réunis dans la chambre de la Mère des dragons. Bref, des annonces peu réjouissantes en vue de la saison 8. Et en même temps, s'attendre au pire, c'est aussi ça être fan de Game of Thrones. #Séries TV